Contemporary Education Vs. The Nithyanada Gurukul
"The current system of education established by Macaulay and Max Muller in India is the 'non-involving narrative style' of teaching. The original Indian education system was not about continuously giving words, ideas, concepts, theories or theologies. It was about awakening you to the right context – Enlightenment.

The Indian Education System – the Gurukul - is more of a 'transmission' of the knowledge, rather than mere 'transfer' of knowledge. My Gurukul kids will not use their body as a 'PC' that merely processes information that is fed to it. They will function as the 'internet', accessing knowledge from the cosmic archives and having their own inventions and discoveries!" - Paramahamsa Nithyananda

"Understand education means putting set of ideas into your head and forcing you to conform to it. Pressurizing you to memorize it and forcibly making you vomit.

In gurukul there is no 'education', there is only initiations. Initiation means empowering you with powers and letting you play with it and letting you manifest your specialization and letting you grow and glow. There is only one thing SHAKTIPADA that's all. Constantly you are empowered, asked to explore." ~ Paramahamsa Nithyanada
Blending with Modern Education System
To keep in touch with society today, contemporary modern education - GCSEs Edexcel is offered.
The Edexcel International GCSEs direct students around the globe towards
a better future, preparing them for Level 3 study, or for employment.
The students with the guidance of Swamiji crack their 12th grade board
exams in flying colors when they are at the age of 12.
"All my Balasanths I relieve you from this torture. You do not need to learn anything which I cannot teach. I'll will teach you the very methodology of thought currents"
~ Paramahamsa Nithyananda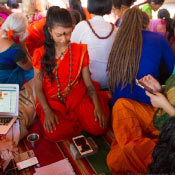 The Gurukul education is constantly developing along with the changes in trends and new researches. The contemporary system of education is becoming redundant and students are no longer able to connect the theory they study in school to practical life.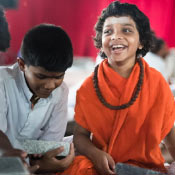 What is supposed to be education? Educating the child to be manifesting for whatever he is capable of and being a very good, beautiful, best contributing citizen of the planet earth - Humanity. That's all is the purpose of education.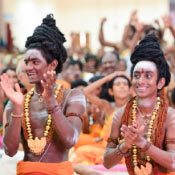 The Nithyananda Gurukul Balasanths are trained into real word projects. They run sub companies within the ashram and make decisions at the top in alignment with Swamijis vision for the world.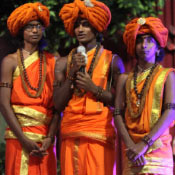 Subtle grooves and the non mechanical parts of the student's brain is awakened by Swamiji. This heightened levels of brain use allows students to reach their true potential. Students have conflict and stress free living embedded into their consciousness.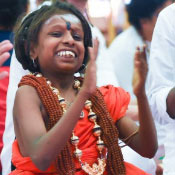 The Gurukul is the only future for the younger generation today. A vision. A passion to run. It gives them a purpose to live.